Location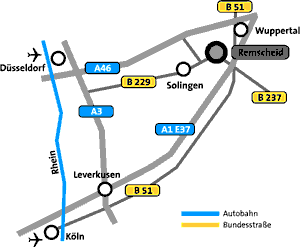 The company Pow
tec
Maschinen
und Engineering GmbH is located in the building complex Technology Fabrik Remscheid (TFR), Berghauser Str. 62.
The airports Düsseldorf and Cologne-Bonn are both situated around 45 kilometres away with direct autobahn connection. There are also regular train connections from Düsseldorf to Remscheid via the urban railway. The Technology Fabrik Remscheid (TFR) is around two kilometres away from Remscheid main station.
Powtec can be conveniently reached by car via the autobahn A 46 in connection with road B 229 or via the autobahn A1 (E37).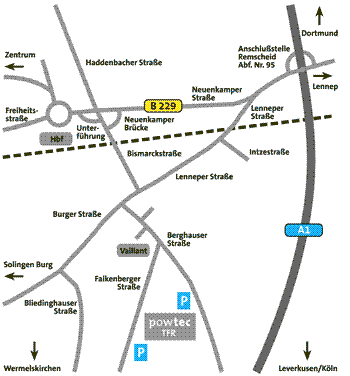 Take the exit Remscheid using the autobahn A1 from direction Cologne or Dortmund and turn right following the sign "Remscheid, Zentrum".
Turn left after a small hill and about 1 km staying on the "Lenneper Straße" in the direction "Solingen-Burg, Krankenanstalten". Follow this street "Lenneper Straße" and turn left after approx. 1.2 km into the Berghauser Straße.